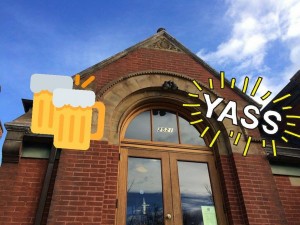 SAVE THE DATE: The annual Bmore Historic unconference is scheduled for September 29, 2017 from 8:30am to 4pm at the Baltimore Museum of Industry. Please stay tuned for more details. The Orser Center has been a co-sponsor of Bmore Historic from the inaugural event in 2011. For more information, see the Bmore Historic website and RSVP on the Facebook page.
All friends of the Orser Center are invited to the upcoming Bmore Historic Happy Hour at the Village Learning Place in Charles Village (2521 St. Paul St.) on Friday, May 12 from 6 to 7:30pm.
Please join fellow old building lovers, history nerds, library geeks, neighbors, friends, and family for our Bmore Historic happy hour at the Village Learning Place on the evening of Friday, May 12. The Village Learning Place is a unique, nonprofit community library established by a group of Charles Village residents in 1997 in the former St. Paul Street Branch of the Enoch Pratt Free Library. The charming 1896 brick building, designed by local architect Charles L. Carson, includes a handsome outdoor garden where we'll enjoy an evening of refreshments and informal conversation.
If you're interested in participating in the Bmore Historic unconference this fall, this happy hour is a great opportunity to meet the organizers, ask questions, and share your ideas for sessions: http://bmorehistoric.org/
We are also partnering with the bLAM Collective to seek ideas for future#bLAMclass workshops: https://blamcollective.wordpress.com/events-2/blamclass/
Don't forget to register on Eventbrite.
This event is free but we will be accepting donations to cover the costs of refreshments and help support the Village Learning Place. Registration is encouraged!