Happy spring! We are excited for the Baltimore Field School 2.0 Spring Showcase.
Join us at The Real News Network on April 26 at 6pm for the debut of the "To Say Their Own Word" Archival Project!

Register HERE.
In 1980 Marshall "Eddie" Conway (April 23, 1946 – February 13, 2023) helped organize a prisoners' educational outreach program called "To Say Their Own Word," where thinkers and scholars came to Maryland Penitentiary and spoke about social topics like impending U.S. fascism, the prison-industrial complex, capitalism, increasing surveillance, and other pressing issues. Speakers included Amiri Baraka, Askia Muhammad, Bruce Franklin, Nijole Benokraitis, and Charlie Cobb. The "To Say Their Own Word" archival project incorporates the oral tradition of storytelling to transmit the experiences of incarcerated people by documenting their reflections over forty years later.
The Real News Network and UMBC's Special Collections, Public Humanities, and Baltimore Field School partnered to develop public programming around this collection by conducting oral history interviews, excerpts of which will be featured at a free public event in Baltimore on April 26. In the words of Community Fellow Cameron Granadino, "this project is really about how political prisoners inspired people to organize in the community." We hope this archive is one small part of the legacy of compassion and humanity Eddie Conway leaves behind to inform and inspire future generations.
Baltimore Field School Fellows Lisa Snowden of the Baltimore Beat and Betty Bland-Thomas from Sharp Leadenhall will also give brief updates at the spring showcase at TRNN.
Please email Lisa with any community events for the Beat at [email protected].
WELCOME, BUFFY!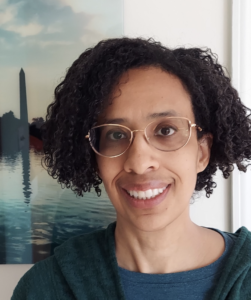 We also are excited to welcome our new BFS 2.0 Program Coordinator Buffy Illum. Buffy is a Maryland native and is thrilled to support the BFS 2.0 community and help develop our week-long summer institute on July 17 – 21. Buffy is a project and grants manager as well as collaborative research practitioner who enjoys working behind the scenes to support health, environmental, and social justice initiatives. She is very much looking forward to meeting the fellows and serving the community.
Save the Date: Tuesday, May 2
On May 2 we'll have a virtual fellows meeting at 1 PM (please mark your calendar) to discuss the 2023 Summer Institute schedule and then do an optional potluck and park meet up at Druid Hill Park's Lakeside Pavillion from 4-7 PM. Come enjoy a spring BFS potluck with the Baltimore Field School Community and UMBC fellows. Bring your picnic blanket and be ready to strike a pose. Please RSVP via the potluck form. Catalina Dansberger Duque, a UMBC fellow suggested a park meet up to enjoy the beautiful weather.
UPCOMING FELLOW EVENTS
BFS Community Fellow Yesenia Mejia-Herrera wants to share events she is hosting in east Baltimore in partnership with the Creative Alliance:
Jovenes en Accion at Creative Alliance (3137 Eastern Ave.) Mondays and Wednesdays until June 7 from 4:30PM- 6:30PM in the Creativity Center. Jóvenes en Acción is a Latin American folkloric dance and service- learning program serving youth ages 12 to 20. Led by dancers, choreographers, and educators from Monterrey, Mexico, participants will engage in an arts-based dance program with an emphasis on dances, steps, and routines that represent Latin American identity, culture, and heritage. Registration Link: https://forms.gle/uKrTgJKHfjNSNDUB7
Artesanitos at Creative Alliance on Saturdays from 11AM- 1PM until May 27 for ages 7-11. Artesanitos is a free educational program centered on passing down folkloric traditions in Latin American arts and crafts. Registration Link: https://forms.gle/VsZTursgc2oU7U9x6
Special Day with Mama at Creative Alliance on May 6th from12-4PM. Mother's Day is a special holiday around the world. We take this time to honor, thank, and celebrate the important caregivers in our lives. In Latin American tradition, families gather and acknowledge their warrior mama with folkloric dances, live music, poems, gifts, and traditional food. Join the Artesanas of the Creative Alliance to celebrate all mamas in the Latin American way!
The 11th International Digital Telling Conference will feature a tour of East Baltimore with Yesenia and one of West Baltimore with Fellow Curtis Eaddy II. The conference is in Baltimore on Tuesday, June 20th. The day opens on UMBC's campus with a morning keynote and conference sessions followed by an afternoon in Baltimore City with site visits, storytelling tours, and community project exploration. For more info or to register: https://dreshercenter.umbc.edu/dst2023/
Community Sound Stage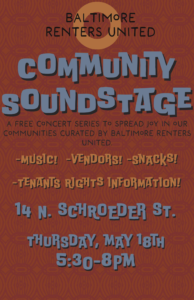 Community Fellow Tisha Guthrie is hosting a Community Soundstage with Baltimore Renters United on Thursday, May 18 in a Poppleton vacant lot at 14 N Schroeter Street that was once the Pop Farm community garden. In 2021, the garden was displaced for a development project that never happened. This event is part of the Bringing Our Community Joy (BOC Joy): Community-led Development, Starting at the Root project focused on a holistic approach to address trauma and heal with a 3 step process: (1) self-care, (2) community care, and (3) community organizing. Across the country, community-led movements are redirecting the trajectory of local policies, insisting that community priorities be reflected in budget line items. In a city like Baltimore, which has suffered and continues to be blunted by trauma after trauma, a more comprehensive approach is our best chance at building a sustainable movement. The people of Baltimore deserve emotional, physical and mental spaces to dream. The BOC Joy project strives to provide such a space.

"I am your neighbor" Project
Curtis Eaddy II is working with Nicole King's American Studies class on the "I am your neighbor" project focusing on the Poppelton neighborhood of West Baltimore. Save the date for a community event on Saturday, May 20 to celebrate the signing of the Sarah Ann Street Local Historic District by Mayor Brandon Scott last week. We will also kick off the fight to preserve homes along the 1100 block of Saratoga Street and a campaign for the community's Poppleton Plan. Poppleton residents are fighting for preservation and community-led development in their neighborhood and Baltimore City. You or your organization can put a free ad in our community newspaper that debuts on May 20.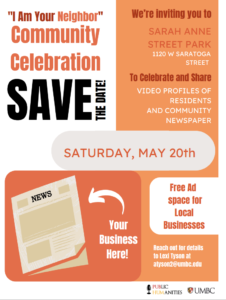 SHARE YOUR UPCOMING EVENTS FOR OUR SUMMER EDITION
Finally, summer is a busy time in Baltimore, so we have started a google doc for fellows and friends to add upcoming summer events HERE.
The next BFS 2.0 "Notes from the Field" will come out in June and have the breakdown for our week-long summer institute in the third week of July and feature your upcoming events.
Thanks for all you do. We will see you at the Spring Showcase on April 26.
Onward!
The BFS Team