Toward a Bicycle Culture: Rethinking Urban Life on Two Wheels
UMBC Library Gallery
Thursday, September 23 4-6pm

Zack Furness, Ph.D.
Assistant Professor of Cultural Studies
Columbia College Chicago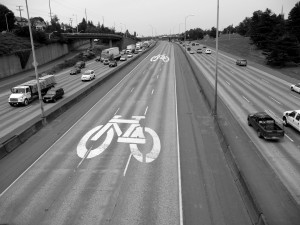 In this lecture, Zack Furness will discuss some of the various ways in which the bicycle has been put to use as a tool for critically examining the relationships between space, place, community, and mobility in the United States.  By drawing attention to a range of political and cultural practices that include public protest, street/performance art, media production, and the establishment of non-profit community centers, Dr. Furness looks at how a burgeoning counterculture of bicyclists are actively redefining the meaning of "pedal power" and illuminating the prospects of a more sustainable, convivial vision of city.  Zack Furness is Assistant Professor of Cultural Studies at Columbia College Chicago and the author of One Less Car: Bicycling and the Politics of Automobility (Temple University Press, 2010).  He is member of the Bad Subjects Production Team and a contributor to Cycling – Philosophy for Everyone: A Philosophical Tour de Force (Wiley-Blackwell, 2010), Media Literacy: A Reader (Peter Lang, 2007), and Collective Action: A Bad Subjects Anthology (Pluto Press, 2004). His writing has also appeared in the journals Mobilities and Social Epistemology, as well as magazines such as Punk Planet and Bitch (forthcoming).  Presently, he is editing a book of scholarly essays on punk, entitled Punkademics, and co-editing a cultural studies collection on the National Football League.
Inaugural Lecture of the Center for the Study of Place, Community, and Culture (CSPCC)
Department of American Studies, UMBC
https://amstcommunitystudies.org
Dr. Furness will also be speaking about his book at the
2010 Baltimore Book Festival Radical Bookfair
at Mount Vernon Square Friday, September 24 at 5pm.